Covers: Detroit Diesel Series 60 DDEC V electronic control system
Please confirm ECM before purchasing
The Detroit DDEC V troubleshooting manual provides information for mechanical and electronic troubleshooting of the Series 60 engine and control system. In this manual you will find detailed diagnostic procedures, code troubleshooting and more. This manual is delivered as a high resolution, bookmarked, searchable and printable PDF file to your computer, tablet or smartphone.
Includes:
Detroit Series 60 DDEC V Troubleshooting Manual (EPA04) PDF — DDC-SVC-MAN-0012
Digital download only.
Contents:
Introduction
Overview
Scope and Use of This Guide
Safety Precautions
Troubleshooting Symptoms
Low Oil Pressure
Misfiring Cylinder
Starting Difficulty (Engine Rotates)
No Start (Engine Will Not Rotate)
Excessive Oil Consumption
Excessive Crankcase Pressure
Excessive Exhaust Smoke (Black or Gray)
Excessive Blue Smoke
Excessive White Smoke
Running Rough or Stalling
Low Power Concern
High Engine Coolant Temperature
Low Coolant Temperature
Poor Fuel Economy
Air Compressor Troubleshooting
DDEC System
DDEC 5 System "How it Works"
DDEC 5 Sensors and Wires
Engine Harness
Vehicle Interface Harness
Engine Harness Schematic
Vehicle Interface Harness Wiring Schematic
DDEC Pro-Link/DDR Operation
Diagnostic Codes
Basic Knowledge Required / Testing / Service Tools
Intermittent Faults
Flash Code 11 – VSG Voltage Low
Flash Code 12 – VSG High
Flash Code 13 – CLS/ECL Sensor Voltage Low/EGR Valve High
Flash Code 14 – Coolant or Oil Temp Sensor High
Flash Code 15 – Coolant or Oil Temp Sensor Low
Flash Code 16 – CLS/ECL Sensor Voltage High
Flash Code 21 – TPS/AP Sensor High
Flash Code 22 – TPS/AP Sensor Low
Flash Code 23 – Supply Fuel Temp Sensor High
Flash Code 24 – Supply Fuel Temp Sensor Low
Flash Code 26 – Auxiliary Shutdown Active
Flash Code 27 – Intake Air Temp Sensor High
Flash Code 28 – Intake Air Temp Sensor Low
Flash Code 29 – TCI / TCO Temperature Low
Flash Code 31 – Engine Brake Fault or Auxiliary Output #12–17
Flash Code 32 – CEL/AWL / SEL/RSL Fault
Flash Code 33 – TBS/IMP Sensor High
Flash Code 34 – TBS/IMP Sensor Low
Flash Code 35 – OPS/EOP Sensor High
Flash Code 36 – OPS/EOP Sensor Low
Flash Code 37 – FRS/Fuel Restriction Sensor Voltage High
Flash Code 38 – FRS/Fuel Restriction Sensor Voltage Low
Flash Code 39 – EGR Valve / VNT Vane Fault
Flash Code 41 – Missing TRS/CKP Pulses or Extra SRS/CMP Pulses
Flash Code 42 – Missing SRS/CMP Pulses or Extra TRS/CKP Pulses
Flash Code 43 – Coolant Level Low
Flash Code 44 – Coolant or Oil Temp High
Flash Code 45 – Engine Oil Pressure Low
Flash Code 46 – Battery Voltage Low
Flash Code 47 – Air / Fuel Pressure High
Flash Code 48 – Air / Fuel / EGR Pressure Low or EGR / TCI / TCO Temperature Low
Flash Code 49 – TCO or TCI Temperature High
Flash Code 51 – TCO or TCI Temperature Circuit Failed High
Flash Code 52 – ECM/ECU Fault
Flash Code 53 – ECM/ECU Memory Fault
Flash Code 54 – VSS Fault
Flash Code 55 – J1939 Data Link Fault
Flash Code 56 – J1587 Data Link Fault
Flash Code 58 — Cruise Control Input Fault
Flash Code 61 – Injector Response Long
Flash Code 62 – Auxiliary Output #1, #2, #5–11 Fault
Flash Code 63 – PWM Fault
Flash Code 64, Turbo Speed
Flash Code 65 – Air Filter Restriction Input Voltage High or Low
Flash Code 68 – Idle Validation Fault
Flash Code 71 – Injector Response Short
Flash Code 72 – Vehicle Overspeed
Flash Code 73 — Air Filter Restriction High
Flash Code 74 — OI Safety Loop
Flash Code 75 – Battery Volt High
Flash Code 77 – Exhaust Back Pressure Fault and Several Information Codes
Flash Code 81 – Oil Level or Exhaust Temp Circuit Failed High
Flash Code 82 – Oil Level or Exhaust Temp Circuit Failed Low
Flash Code 83 – EGR Temp or EGR Delta-Pressure
Flash Code 86 – PSG Sensor High
Flash Code 87 – PSG Sensor Low
Flash Code 89 – AECL Sensor Fault or Fuel Inlet Restriction High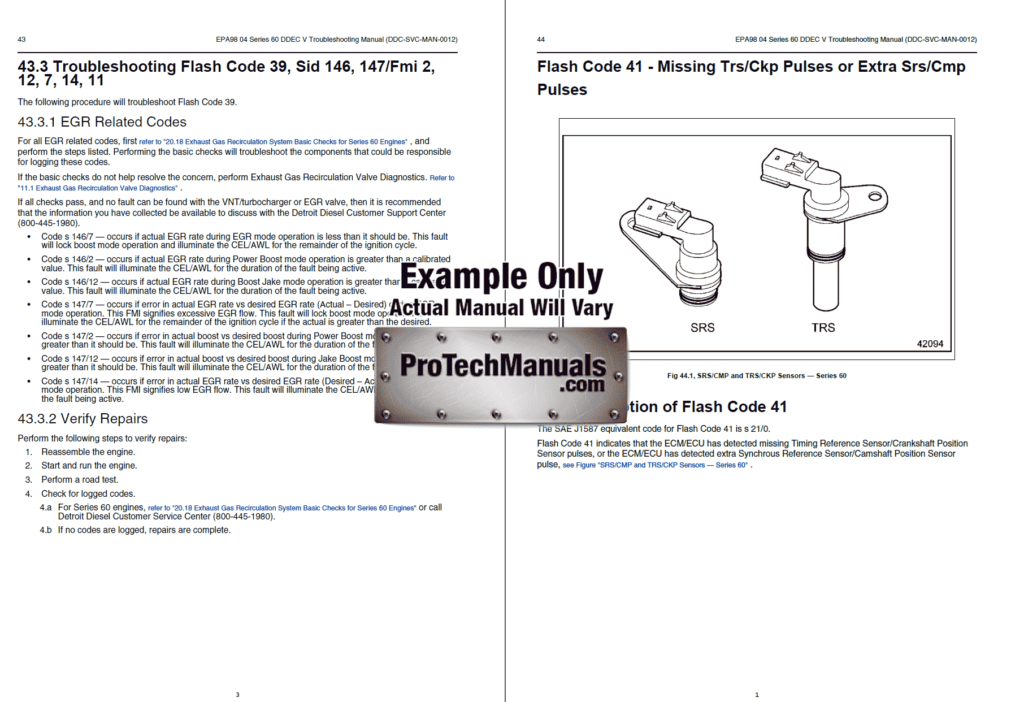 File details:
Pages: 614
Format: PDF
File size: 21mb
Language: English
Features: Bookmarked, searchable, printable
Compatible with: PC/Mac/Tablet/Smartphone